Research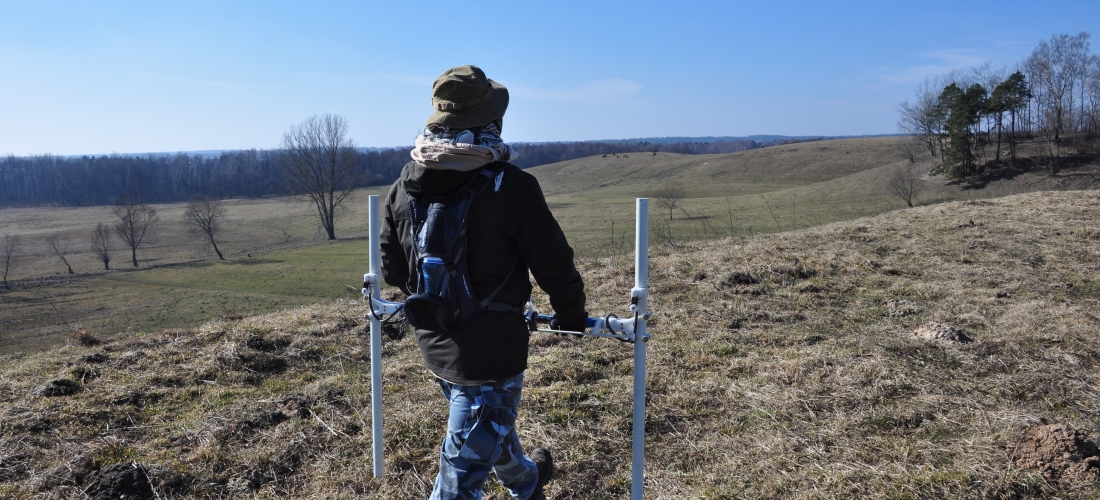 In the spring of 2014 a geophysical survey using the magnetic method was made in the area of the two settlement complexes at Skomack Wielki (Ostrów) and Szurpiły led by P. Wroniecki.
The magnetic method of geophysical survey is a useful tool for investigating large areas of archaeological landscape to detect various magnetic anomalies below the ground caused by human activity. This method makes it possible to identify features that have magnetic properties different than their surroundings such as kilns, hearths, remains of fortifications, the fill of ditches and pits and other assorted relics of human activity.
The magnetic survey at Skomack Wielki (Ostrów) and Szurpiły was made with a Bartington Grad601-2 fluxgate magnetometer with two sensors. The total area covered by the study was 14.5 ha, with 10.5 ha surveyed at Skomack Wielki (Ostrów) and 4 ha at Szurpiły.
Both study areas have natural conditions which proved a something of a challenge. The presence in their glacial geology of a great quantity of very fine particles with magnetic properties and an accumulation of magnetic material resulting from fluvial processes and littoral zones made for some difficulties in the interpretation of the findings from the magnetic survey.
In the part of the settlement complex at Skomack Wielki (Ostrów) the survey detected anomalies associated with Góra Grodzisko (Earthwork Hill) suggesting the presence of archaeological features and built structures in the area enclosed by the hillfort rampart. The range of occurrence of anomalies associated with the structure of this elevation was determined and potential concentrations of archaeological features were identified.
At Szurpiły the settlement complex is spread over a large area with a heavy growth of trees and shrubs. With these constraints the magnetic survey had only a limited success in disclosing the presence of archaeological resources. Even so, past transformations of the landscape were sufficiently marked and were detected at every surveyed location. The results of the magnetic survey now need to be confirmed by archaeological excavation.